We Install In Naples, Bonita Springs, and Marco Island Florida (Collier and Lee County)
Please Call For Latest Models, Current Pricing, and Promotions 239-596-7070

AquaCal

Aquatherm

GulfStream

Jandy/Air Energy
Swimming pool heat pumps have become without question, the most popular and practical way to heat your pool. Choosing a heater is a big decision. The heat pump industry has evolved over the years and we believe certain heater manufactures and their products to be truly superior in terms of quality, technology, and service. We are a dealer for many brands but we have our favorites. We have found that offering the different brands helps to ensure we will have just the right heater for you and your situation. We can usually deliver and install a heater within 24 hours.
Heat pumps are not the fastest source of heat but they are the most efficient way to guarantee a warm pool. Swimming pool heat pumps are one of the few products in this world that we believe is being made at a higher standard now than before. For example, the COP ratings (efficiency ratings) are better than ever. Titanium heat exchangers with life time warranties, Scroll compressors are quieter than ever and the overall efficiency and features are on a new level.
Regulation has caused the heating manufacturers to comply with certain guidelines. The guidelines have become extensive over the years so you want to be sure to stick with the top manufacturers. Please feel free to call with any questions.
Call us for a free consultation. 239-596-7070
Panther Amphibian - Gas Pool Heaters
Sta-rite Max E-Therm

Jandy/Teledyne
Please Call For Latest Models, Current Pricing, and Promotions 239-596-7070
With more than 20 years experience in the swimming pool service industry, Panther Amphibian has made available for purchase only products that we have had first-hand experience with. These gas heaters are our favorites!
In the South West Florida area of Naples, Bonita Springs, Marco Island, Collier and Lee Counties, we can usually install a heater within 24 hours. Or, call to have one delivered right to your door.
Gas heat is fast and will get your swimming pool or spa up to temperature under any weather condition. If you already have gas on your property, a gas heater is usually less expensive to install than other types of swimming pool heaters. If you need a tank and a heater, the cost is usually comparable to other heating systems.
We suggest gas heaters for those customers that want their pool or spa to heat fast no matter what the weather conditions are. Please call us today and we will be glad to share years of experience with you.
Panther Amphibian is authorized to sell just about every top brand gas swimming pool heater manufactured today. Below are just a few. 239-596-7070


Hayward

Jandy

Sta-Rite

Teledyne Laars
Panther Amphibian - Solar Heating 239-596-7070
With today's energy concerns, solar heating is being used more than ever. We have worked with solar heating systems on swimming pools for more than 20 years. Solar heat is comparable in cost to most other heating systems and of course costs you nothing to use.
Panther Amphibian is an Authorized Faco Solar dealer local to the Naples, Bonita Springs, Marco Island, Ft Meyers and Cape Coral areas.
We have worked with Fafco Solar for over 20 years. They are the true solar experts! We began contracting solar work using Fafco because our long-time customers preferred to work with Panther Amphibian as they have come to know and trust our company. Using Panther Amphibian as your Fafco agent will not cost you extra and will guarantee you a fair and honest price every time. Let Panther Amphibian be there to offer our assistance in many ways with your solar project.
Please call us today for a "no cost" estimate and evaluation to make sure you are a candidate for solar.
Panther Amphibian Pool Heater Repairs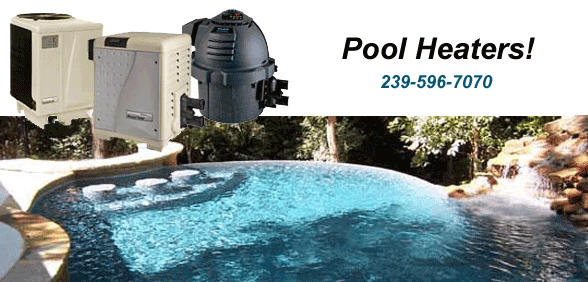 One thing you can count on is, in the event you pool heater is not going to work; it is going to be the day you turn it on because the grandkids are coming. If this happens, Panther Amphibian can usually have a full diagnostic of your heater performed within 24 hours or even sooner. Panther Amphibian has been dealing with Pool heater issues for more than 20 years. Weather you have a heat pump, gas heater, or solar heat we can most likely help you.
Call Today! 239-596-7070
View Prices/Monthly Service Contract


"We are an Accredited Business through the BBB Serving West Florida"