Panther Amphibian - Automated Pool Controls
Most new pool/spa installations are equipped with state of the art control systems to control the functions of your pool and spa such as heating, turning the spa functions on and off, storing programs for run times, temperature settings, lights, and more. This is done from a control pad on the inside of your home or a variety of mobile and handheld options. Press one or two buttons and your spa heats up! In addition to total control of your swimming pool, these systems also offer options for built in chlorine generating systems for proper sanitation for your pool.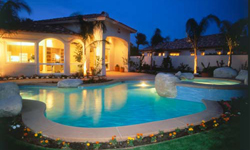 A pool and spa is a huge investment in your home and user friendly controls will encourage you to actually use your pool and spa more often. Panther Amphibian has remained on the cutting edge of swimming pool automated controls systems. We will be happy to help educate you and help you choose controls that are right for your needs.
Panther Amphibian has been serving Naples, Marco Island, and Bonita Springs since 1986!
"We are an Accredited Business through the BBB Serving West Florida"